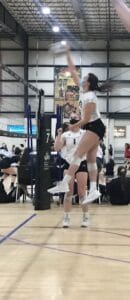 Beach Elite has been one of the premier volleyball academies in the commonwealth for over a decade. Starting in 2006 with 13 girls teams and one boy's team, Beach Elite started off using local schools and gyms, all the while, searching for a place to call their home. In 2010, they merged with the ownership of the Virginia Beach Field House and are the largest organization calling the Field House home. They run a variety of programs including their Futures and Beach programs as well as a variety of camps and clinics. They've sent over 30 players to NCAA Division 1 programs in the last 10 years with several high-level prospects still in the pipeline for the 2021 class and beyond. Here are some of their 2022 top prospects.
Beach Elite 17 Black is loaded with high-level talent.  Hannah Smith is a 5'10 six-rotation Outside Hitter with an approach touch 9'10 and block touch 9'7.  Hannah is a mid-level Division I six-rotation outside hitter.  She's a true ball control kid with a terminating arm. She hits with great power and range and reads the game at a very high level.  Division I is a solid landing spot for this sand and indoor stellar volleyball player.  
Mackenzie Colvin is a 5'9 setter with an approach touch 9'2 and a block touch of 9'0. She is a Mid-level Division I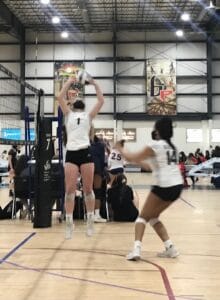 setter.  She is extremely fundamentally sound and has a very high level of accuracy setter with great location regardless of tempo. She takes mid-system and out-of-system passes and can keep them in a quicker tempo offense. She's a solid defender and intense competitor.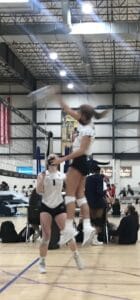 Sarah Callendar is a 2019 Second Team All-State selection, from Tabb High School. Sarah is a  5'10 six-rotation Outside Hitter with an approach touch 9'4 and block touch 9'1. She's a High-level Division II or low-level Division I six-rotation outside hitter.  She's great in serve-receive with excellent movement to the ball and platform awareness and control. She is a threat from both front and back-row, extremely efficient at scoring from all areas of the court.
Ryann Love is a 6'2 Middle Blocker with an approach 9'9 touch and blocking touch of 9'4.  She's a mid to low-level Division I middle blocker.  She reads the opponent's offense well and is adept at closing the block. She's very efficient in transition offense and can score regularly which is a great attribute for Middle Hitters and a key to successful programs. 
Victoria Donovan is a 6'0 Right Side/Opposite with an approach touch of 9'9 and block touch of 9'5. She is a Low-level Division I RS or high-level Division II RS.  She is a huge block in a live game situation, truly a space-taker with impressive reach over the net. She reads the nuances of the hitter and moves her arms well to seal the net and moves to take angles. She presses well to seal the line and minimize getting tooled. She hits with range and power. 
Riley Drew is a 5'10, sand volleyball, and indoor Outside Hitter.  She projects to Division I sand volleyball, or Division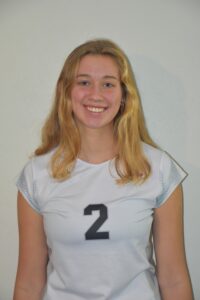 II indoor.  Riley is a finesse player indoor because of her experience in the sand.  She has exceptional ball control and reads the game at a high level. Her ideal location is a school where she can play both.  She was the 2nd ranked sand player on the AVP America U16 tour in 2020.  Her coach (who is a former DI asst coach) says "Riley drew is one of the most coachable players I have ever worked with. She exudes potential and is the consummate teammate. Her ability to keep her teammates focused in big moments is crucial to her team's success."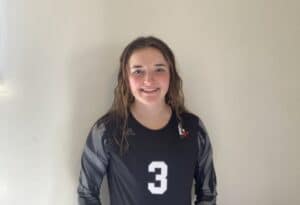 Sophia Stites is a solid Libero. She plays well within her frame and moves efficiently to the ball. Her consistency struggles some when her platform goes outside her frame. She moves well on defense and has good but not elite ball control skills. She projects to play well at a low Division II or III level.  
Sarah Thompson is an Outside Hitter for the 17 Black team (the higher of the two 17s teams) has already signed to play Sand Volleyball at UNC Wilmington. They have a few remaining unsigned seniors of their two teams with 5 players going to NCAA Division 1 programs.