There's a lot to discuss after a thrilling opening week of high school volleyball across Nebraska. Let's get into it.
We saw a variety of tournaments, triangulars, and one-off matchups throughout the week. Many teams tested themselves against top-tier opponents right away. It's a great opportunity to see which players are ready to put up some big numbers this season.
So, let's give a shoutout to a few players who filled up the stat sheet to kick off the 2021 campaign.
Aaliyah Bradford
Aaliyah Bradford 5'4" | S Lincoln East | 2024 State NE – 5'4 S – Lincoln East – Class of 2024
Bradford compiled a solid 9.2 assists per set last week after a busy stretch of matches. The Spartans scored a home win over Grand Island before immediately traveling out to the Bellevue West Invitational. All told, Lincoln East played 17 sets over the span of three days, and Bradford never slowed down.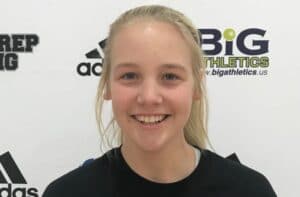 Ella Waters
Ella Waters 6'3" | OH Norris | 2022 State NE – 6'3 OH/RS – Norris – Class of 2022
Norris scored a quintet of two-set victories in tournament action last week, and Waters was a pivotal part of the team's offense throughout. The senior outside hitter piled up over five kills per set in three of the five matches she played. That kind of production will almost always lead the Titans to victory.
Kate Galvin
Kate Galvin 5'7" | DS/L Millard North | 2022 State NE – 5'6 DS/L – Millard North – Class of 2022
Galvin was another one of the standouts from the Bellevue West Invite. This talented libero was an anchor for Millard North's defense and had an incredible 24-dig performance in three sets against the host Thunderbirds. Don't be surprised to see Galvin stay near the top of the digs leaderboard throughout the year.
Brenna Schmidt
Brenna Schmidt 6'4" | MB Elmwood-Murdock | 2022 State NE – 6'5 MB – Elmwood-Murdock – Class of 2022
Schmidt has always been an impressive middle blocker for Nebraska Juniors, and now she's bringing that dominance to Elmwood-Murdock. She had a cumulative .457 hitting percentage last week and helped lift the Knights to a pair of sweeps to open the season.
Chloe Hanel
Chloe Hanel 5'11" | MB Clarkson/Leigh | 2024 State NE – 5'11 MB – Clarkson-Leigh – Class of 2024
Many people are anticipating a big year from Hanel, and she backed up those expectations on opening week. There was hardly a statistical category that this middle blocker didn't populate last week. Hanel finished with a .326 hitting efficiency and had impressive nine blocks over just four sets.
Morgan Bode
Morgan Bode 6'1" | MB Papillion-La Vista South | 2024 State NE – 6'1 MB – Papillion-La Vista South – Class of 2024
It was quite a weekend for Bode in the Titans' starting lineup. The sophomore middle blocker showed up on the big stage and tallied numerous stuffs en route to a championship in the Bellevue West Invitational. Needless to say, she's fitting in just fine on this team.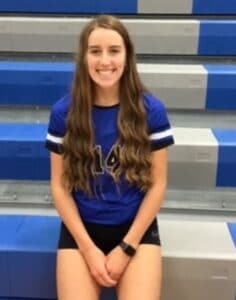 Jolee Ryan
Jolee Ryan 5'10" | OH Overton | 2024 State NE – 5'10 OH/MB – Overton – Class of 2024
Ryan looks like the next big hitter to come through the Overton program. She put up some ridiculous numbers over the weekend, including a .714 hitting percentage on 14 swings in the season opener. After eight sets of play, her efficiency finished at .426. That will win plenty of contests for the Eagles.
Lexi Schroder – 5'8 OH/MB – Stuart – Class of 2022
Schroder has been tearing it up ever since her freshman year at Stuart, and she might be saving her best stuff for the grand finale. She recorded 14 blocks in ten sets last week and was an ever-present force on offense. The Broncos will surely lean on their captain in the weeks to come.