Prep Network Announces Year 2 of Grow The Dream Foundation
PLYMOUTH, MN (Nov. 2023) — Prep Network announced the opening of our second year of the Grow the Dream Foundation, a scholarship program for aspiring college athletes in Minnesota.
After a successful inaugural year, featuring two excellent scholarship recipients, Prep Network is excited to bring back Grow the Dream to continue to make a positive impact on the lives of college-aspiring athletes in our home state.
In year two, the scholarship will provide $5,000 per year (for up to four years) for two Class of 2024 student-athletes who are pursuing a place on an athletic roster at a college or university in the state of Minnesota.
This scholarship is for current high school seniors (Graduating in 2024). The application and further details can be found HERE. Know someone who would be a fit to apply? Please nominate them at the link below.
The application window closes in January, with interviews and selections taking place in spring 2023.
MEET LAST YEAR'S WINNERS
Hope Carlson of Proctor High School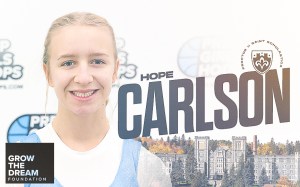 Hope was a straight-A student and multi-year team captain for the Proctor Girls Basketball Program. In addition to basketball, Hope was also a captain for the Proctor Volleyball team. Outside of athletics, Hope was an active member of the National Honor Society and Student Government, serving as the Vice President and eventually the President of both organizations for her school. She regularly volunteered at the local animal shelter and started her own clothing company called "Hope by Hope". She attends The College of St. Scholastica in Duluth, Minnesota. Hope plans to major in Marketing & Business and is playing for St. Scholastica's Women's Basketball team.
Today, Hope and the St. Scholastica Saints are gearing up for the basketball season after winning their opener in Duluth, MN against Crown College on November 8th. Hope, who played 15 minutes in game one, will be wearing #2 for the Saints. This weekend, she scored 4 points in an exhibition loss at D2 Bemidji State University.
"In getting to know Hope, it was obvious that she is the perfect recipient of the Grow the Dream scholarship. Hope's curiosity was remarkable for a high school student, as evidenced by her endeavors in thrifting and re-designing custom sweatshirts. On top of her curiosity, her commitment to being a leader and positive role model in her community was evident." said Nick Carroll
Abdallah Abed of Mounds View High School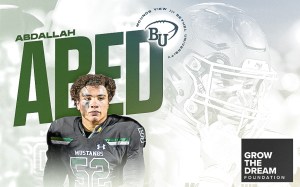 Abdallah was unanimously selected as captain of the Mounds View Football team. On top of this, he was recognized for his athletic performance by being named to the Suburban East All-Conference team. In addition to his athletic accomplishments, Abdallah was widely recognized by his peers and coaches for his leadership, selflessness, and drive. He would often stay after practices to help teammates, continually put in the work in the classroom and weight room, and volunteer in his community through organizations such as Feed My Starving Children.
Today, Abdallah and the 8-2 Royals are receiving votes in the D3 Football Top 25 national poll after winning the MIAC Championship and clinching an automatic bid to the NCAA tournament. Bethel faces off against #5 UW-Whitewater on Saturday. Abdallah, a freshman, sports #43 for the Royals.
"Abdallah truly embodies the core values of Prep Network and the Grow the Dream Foundation. He is a Team Player with an insatiable desire to be the best he can be in every aspect of life. We are thrilled to have him as one of our first Grow The Dream scholarship winners, stated Nick Carroll, Prep Network Co-Founder